Lifestyle
Freedom Ship lifestyle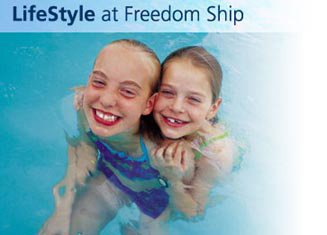 Freedom Ship will be one of the largest manmade structures in existence and, subsequently, one of the most photographed as well. One can look at pictures of the ship and begin to imagine what it will look like built. It will be an architectural mesh of glass, steel, and other materials carefully sculpted into a city roughly 4,500 ft long, 750 ft wide, and 350 ft high where 100,000 people are present at any given moment. However, what will life be like aboard Freedom Ship?
All thriving metropolitan areas share three main characteristics that attract people to work, live, and raise a family. There must be a thriving commercial district capable of supplying the labor force with employment; furthermore, the area must also have an adequate transportation infrastructure to move goods and allow people easy access to every necessity for daily living. There must be a solid school system and highly qualified professionals to allow parents an attractive place to raise a family. Finally, there must be adequate healthcare facilities and professionals to provide their services when needed. If a metropolitan area contains these three main "keys" then the city will thrive and, in the case of Freedom Ship, the "key" to the real estate owned by our residents and business owners will be worth more as the value of the property appreciates over time. FSI is dedicated to providing a thriving commercial district with adequate transportation infrastructure, the world's finest school system, and world-class healthcare facilities.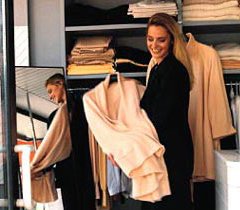 The commercial districts aboard Freedom Ship will provide business owners and professionals an unparalleled atmosphere in which to conduct business. Residents, crew, daily and overnight visitors will shop in an environment of architectural beauty and convenience. Although final drawings have not been released to the public, the commercial district will depict many of the same architectural features as a large commercial district in a major city, such as New York. There will be streets and blocks (or districts) within the commercial area of the ship. Each district will depict a different architectural theme; as one walks through the city one feels as though they are walking around the world.
The real estate sold in various districts will cater to different forms of commerce from professional offices and corporate world headquarters for major international corporations, to retail and open-air markets, to restaurant facilities. Real estate will be developed to facilitate specific forms of commerce indicative to various cultures from around the world. A truly global and international business community will flourish aboard, as goods from ashore are constantly being bought and sold. In addition, real estate is available for light manufacturing, industrial, and warehousing applications. Restaurants aboard the ship will provide fresh cuisine from around the world in atmospheres ranging from fast food to true fine dining at tables with unparalleled ocean views.
An elegant, world-class hotel and casino will also be operating aboard with a large convention center capable of hosting sporting and entertainment events and trade shows…a place truly worthy of hosting The World's Fair. People will have access to various history, technology, and art museums aboard as well as aquariums and nature preserves featuring exotic plants and animals from around the world.
The commercial district aboard Freedom Ship will sustain a population of 100,000 people comprised of 40,000 residents, 20,000 full time crew, 30,000 daily visitors, and 10,000 overnight guests to the hotel and casino.
FSI is committed to providing residents and other individuals with an environment capable of sustaining a vibrant commercial community. Your imagination is the limit when it comes to operating a business aboard. We desire to foster the entrepreneurial spirit within our residents and business owners and will strive to help them whenever possible. It is the people who own and visit the real estate aboard Freedom Ship that create a truly unique environment.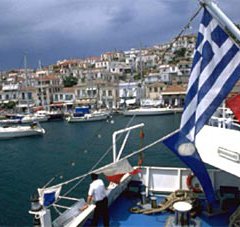 The infrastructure of Freedom Ship contains various transportation systems and facilities necessary to move people and goods on and off the ship as well as transportation aboard the ship. The three main forms of transportation are the airport, the port authority (marina), and the onboard subway system. One can use the airport and port authority to embark or disembark the ship at their convenience. Residents and business owners are only minutes away from a constantly changing environment and have the ability to see the beauty of the world.
The airport will be located on the top deck of the ship. The size of the ship will provide a stable and appropriately sized runway for small commuter and cargo aircraft and helicopters. Current specifications allow for aircraft as large as a STOL turboprop capable of carrying 38 to 40 passengers. Insulation and proper design will shield the residential and commercial districts of the ship from noise associated with airport operations. However, if engineering and management find noise to be detrimental to the overall quality of life aboard Freedom Ship then the airport will be redesigned to facilitate helicopters only with the remaining real estate used as an additional nature preserve. FSI will operate a fleet of aircraft; however, residents are encouraged to own and operate their private aircraft and helicopters. Hanger space below the flight deck will be available for lease to residents and visitors. A flight school will operate on the ship as well.
The port authority will be located at the stern of the ship. The stability of the ship in rough seas combined with the size of the port authority will allow for a constant flow of people to embark and disembark the ship. FSI will own and operate a fleet of Coast Guard approved Subchapter K ferries capable of carrying 350 passengers each and leaving the ship every 20 minutes. Although space is limited, residents will be able to dry-dock their own vessels aboard the ship as well. Although FSI has not finalized the design, it is feasible to have car ferries dock in the port authority and provide residents with the opportunity to lease space available in the hull of the ship for vehicle storage. Residents would be able to own their vehicles and drive them up onto a ferry and off onto land wherever they chose. Such a design would provide unparalleled opportunities to further travel and explore every region of the world.

The onboard subway system will provide residents and visitors with the ability to quickly reach any portion of the ship in a timely manner. It is important to note that visitors will not have access to residential districts aboard the ship. The transportation systems and commercial districts are two of many factors anticipated to promote the appreciation of real estate values aboard Freedom Ship.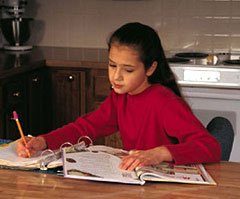 The school system aboard Freedom Ship will provide the world standard for quality in education to students (US grades K through 12) who live aboard the ship. The quality of education is one of many factors anticipated to promote the appreciation of real estate values aboard Freedom Ship.
Curriculum:
Our system of schools will provide a rigorous educational curriculum developed by blending the best attributes from other school systems around the world to create a truly unique and challenging classroom environment. Although the final curriculum has not yet been determined, FSI is dedicated to providing an environment that stresses the following areas of study. History, geography, and the arts will be stressed along with foreign language; all students will be bilingual at graduation. The sciences along with mathematics and engineering will compose another major area of study. Finally, financial education will be stressed as each and every child is exposed on a daily basis to international commerce both aboard the ship and ashore. However, the time students spend in the classroom will be limited.

The Real Classroom:
A portion of the education will happen outside of the classroom as daily field trips to see the world firsthand will be the norm. In effect, students will board ferries instead of buses to visit their classroom…the world in its entire splendor! The ability to see and experience other people and their cultures firsthand is what sets Freedom Ship's school system apart from the rest.
Sports:
Athletic facilities aboard the ship will facilitate organized sports for the school system. Basketball, tennis, track, swimming and diving, gymnastics, American football, soccer, hockey, and facilities for a variety of other sports from around the world will be an integral part of the school system. Students will compete against other schools aboard the ship and with other schools around the world. In effect, students will have their own World Cup for each sport as they travel ashore to compete against schools from around the world and, likewise, as those teams travel to Freedom Ship to play our students for home games as well.
Facilities:
FSI is dedicated to providing the school system with the highest quality facilities possible. Technology will be incorporated into every aspect of classroom learning. The International Library and athletic facilities will provide further opportunities for growth. However, the caring and highly qualified teachers and other professionals will prove invaluable to your child's education. A boarding school for non-residents is also being considered. Universities are expected to have adjunct campuses aboard as well. FSI is dedicated to providing this educational environment to students at a lower cost to parents when compared to the average yearly cost in taxes to send a child to a public school in the United States.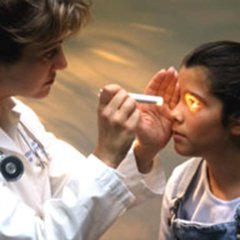 The healthcare system aboard Freedom Ship will provide the world standard for quality in healthcare to residents and crew who live aboard the ship. The quality of healthcare is one of many factors anticipated to promote the appreciation of real estate values aboard Freedom Ship.
FSI is dedicated to providing the healthcare system with the highest quality facilities possible. We have budgeted $400 million in capital investment to build a large state-of-the-art Western-medicine and Eastern-medicine hospital and purchase medical equipment. A medical research facility will also be built and staffed by some of the world's brightest scientists. We also anticipate Universities will establish medical schools aboard the ship. Physicians are encouraged to own and operate private practices as well. Although the details of medical credentials required to practice and the guidelines for practices have not yet been finalized, FSI is dedicated to providing the medical communities an environment where all options and treatments are provided and available to the patient at a lower cost to both patient and physician when compared to current medical facilities and insurance plans.